Brian Feldman is originally from Macungie, Pennsylvania. He started fixing computers for people during his teenage years. While in high school he also competed in a variety of math and computer science competitions.
Brian graduated from Penn State University (Schreyer Honors College) in 2004 with a BS in Mechanical Engineering with distinction and honors. While there he was a member of the FutureTruck Hybrid Electric Vehicle team and wrote an honors thesis about developing computer models for diesel engines.
Brian's career has involved working with many Fortune 500 companies, including General Electric, Goodyear, Progressive, Cummins, and Alcoa. Brian holds US Patent (7,616,012) for innovations involving an advanced capacitance paddle developed while working for General Electric. His work with other companies has involved the development of computer programs and databases to aid in the analysis of data and automation of difficult tasks.
Brian completed his Master's Degree in Engineering and Technology Innovation Management at Carnegie Mellon University in 2008. While there he researched how knowledge was reused and transferred in innovative projects at companies. He also participated in different business plan competitions.
Upon graduation from Carnegie Mellon in the midst of a severe economic downturn Brian interviewed with McKinsey to become a management consultant. After assessing the opportunities available Brian decided to go into business for himself.
Brian founded Feldman Consulting Enterprises, LLC in 2009 to provide expertise and innovative solutions for solving challenging problems. His experience in many different industries and non-traditional thinking methods allow the development of products and services that span many different knowledge domains.
Brian has been President and CEO of Feldman Consulting Enterprises, LLC for 8 years. In that time Brian has expanded the business geographically and diversified its client base while continuing to deliver superior results to clients.
Brian is a licensed private pilot. He also enjoys hobbies including wine tasting, travel, robotics, volunteering at math competitions, and solving problems. He has qualified for an SCCA Racing License by completing the appropriate courses at Porsche Sport Driving School. He was heavily involved in building and exhibiting TOBOR, the gigantic robotic arm/dinosaur at the 2015 Bay Area Maker Faire and the 2015 and 2016 World Maker Faire in New York, which won 6 Editor's Choice awards and was rated #2 Coolest Project at Maker Faire by PCMag. He is also an avid answerer of questions on Quora. Brian is also adjunct faculty at the NCC Fab Lab where he teaches robotics classes and gets involved in a variety of other projects.
In addition to exhibiting Tobor for groups around the Lehigh Valley area such as the PSPE, Lehigh University, LVEDC, Young Innovator's Forum, and ArtsQuest, Brian has also given presentations about robotics in front of groups including LV Tech.
Brian was featured on Forbes.com for answering Why don't more people work as programmers?
Brian currently resides in Macungie, Pennsylvania.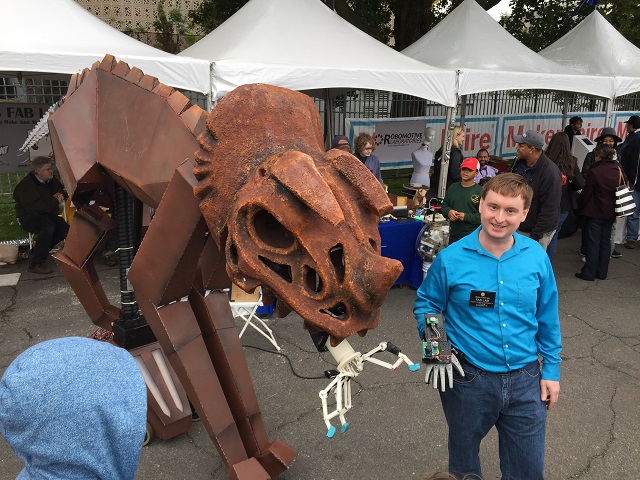 Brian Feldman - 4/16/2017


Your project could be a Breakthrough! Contact us today to find out how!
Feldman Consulting Enterprises, LLC has worked with clients all over the world and is based out of Macungie, PA.
Phone: 484-695-5651

(c) 2017 Feldman Consulting Enterprises, LLC